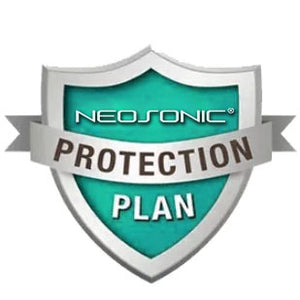 Neosonic Protection Plan
Regular price
$99.00
$0.00
Accidents can and do happen. With the Neosonic Protection Plan, you don't need to worry about your device. If your hearing aids end up in the wash, run over by a car, or even if your dog decides they're a good chew toy, you're fully covered.
What's covered by the plan?
Coverage for ALL types of accidental damage (water damage, pet damage, corrosion, etc.)
Coverage for any defects or malfunction of the hearing aid
No deductibles—covers 100% parts and labor
If we can't fix it, we will send you a brand new device 
What's not covered?
Loss or theft of the device and unauthorized repairs are not covered. The damaged device must be returned to claim the credit. Accessories (e.g. tubing, domes, etc.) are not included.
When can I purchase the plan? 
The protection plan must be purchased within 7 days of your hearing aids' order date. We will not honor any plan purchased after 7 days.
Can I get a refund on the plan?

The protection plan has the same return policy as your hearing aids order. It's nonrefundable if you have already claimed service through your protection plan.
How long does the coverage last?
This coverage lasts as long as your term is active.
How do you get service?
When your hearing aids stop working or get damaged, have your order number ready and contact Neosonic at (800) 765-9908 or send an email to info@neosonic.com. Please provide as much detail as possible so we can assist you in a timely manner. If it's necessary to send the unit back to us, you will be responsible for the postage. Neosonic will cover the postage for shipping back to you.